WooCommerce is the most popular e-commerce plugin for WordPress. Now you can have a shop with all e-commerce features on WordPress.
Before you start adding products, please go through the WooCommerce plugin settings and specify everything you need for your shop:
Adding the products: You can easily add new products via Products > Add Product.
You can read more about Woocommerce here also - WooCommerce Documentation.​
Single products contain additional features that include possibilities for displaying product page in more complex layout. Options that Product Settings include:
Product Settings - select product style from the list of predefined styles; Hint Images - add images with recommended dimensions to display section with images and hint text; Product IconBox - add a section with icon and title; Additional Images - add a special image for displaying it in the Product Carousel Grid element.
The section contains product style selection feature. There are 4 style options in the product style list – Global Settings, Image Left, Image Right, Image Center. When you select Global Settings, product uses a style which applied in the Dashboard > Theme Options > Shop section.

You can display a list of titles with icons on a single product page. You are allowed to add 5 titles with icons.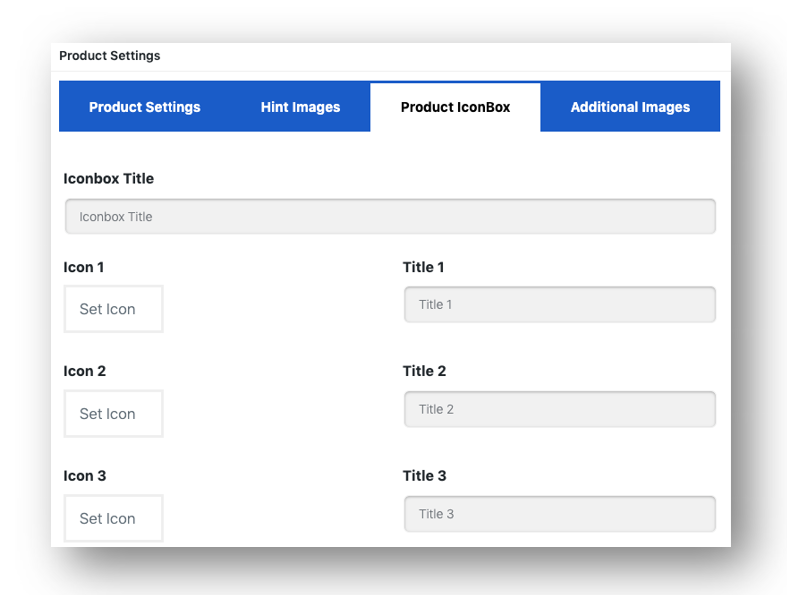 The option for adding a special image that uses to display in Product Carousel Grid element of X Builder plugin.

Add images with the required dimensions to display special section with masonry grid images with hint text To add hint text, click on an uploaded image.