Want your lessons to be more exciting? Just add video content to the lesson.
Go to STM LMS > Lesson > Select a lesson/Create a new lesson.
You can use another option as well and open the lesson from the Course page (STM LMS > Courses > Add New). In the Curriculum Sections select the lesson you need.
Open the Lesson editor page and in the content field paste the link.
Follow this tip: switch the type of content from Visual to Text. In that case, the inserted link will be read as code and your video will be displayed properly.

Paste the URL on a line by itself in the place where you want the video to appear.
Now you will be offered several options of how to insert media, or video in our case: General, Embed, Advanced.
It is very easy to add video by means of the *Frontend Course Builder (*is only available in Pro version)
Open your Profile page and Select any course/Add new course.
You will be working in the Curriculum section. Find the lesson you need or add a new one and follow to the lesson settings by clicking on the Edit button.
On the Lesson editor page under the Lesson settings tab select a lesson type as Video. Then enter the video URL in the relevant field.
Make sure to use the correct URL for the video.
Follow the instructions on how to copy the URL from the source.
For example, you want to add a video from Youtube. Open the video page and find the Share button just under the player.
Click on it and from the provided options select Embed.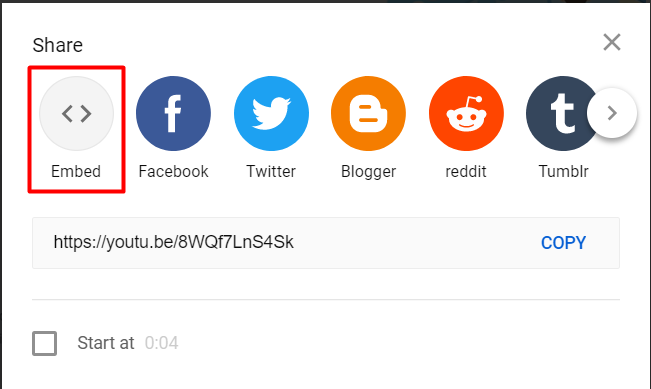 Select the URL as shown below, the link must include 'embed' word.
Copy and paste it into the field.
Use the next option and open the Embed tab. For this time you need to copy the whole code and paste it into the field.

Save changes and check the display accuracy.
This is how your students will see the lesson with video embedded.