After completing the installation of the theme, you need to activate your product under Motors -> Product registration following these instructions:
1. Click on this Generate A Personal Token link. IMPORTANT: You must be logged into the same Themeforest account that purchased your current theme. If you are logged in already, look in the top menu bar to ensure it is the right account. If you are not logged in, you will be directed to login then directed back to the Create A Token Page.
2. Enter a name for your token, then check the boxes for View Your Envato Account Username, Download Your Purchased Items, Verify Purchases You've Made and List Purchases You've Made from the permissions needed section. Check the box to agree to the terms and conditions, then click the Create Token button.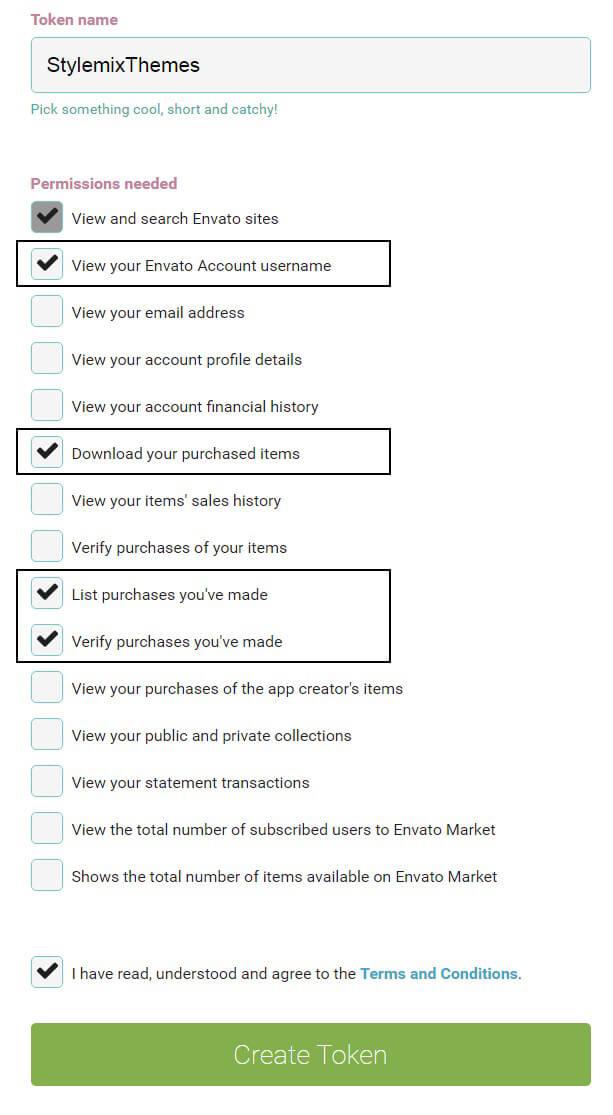 3. A new page will load with a token number in a box. Copy the token number then come back to this registration page and paste it into the field below and click the Submit button.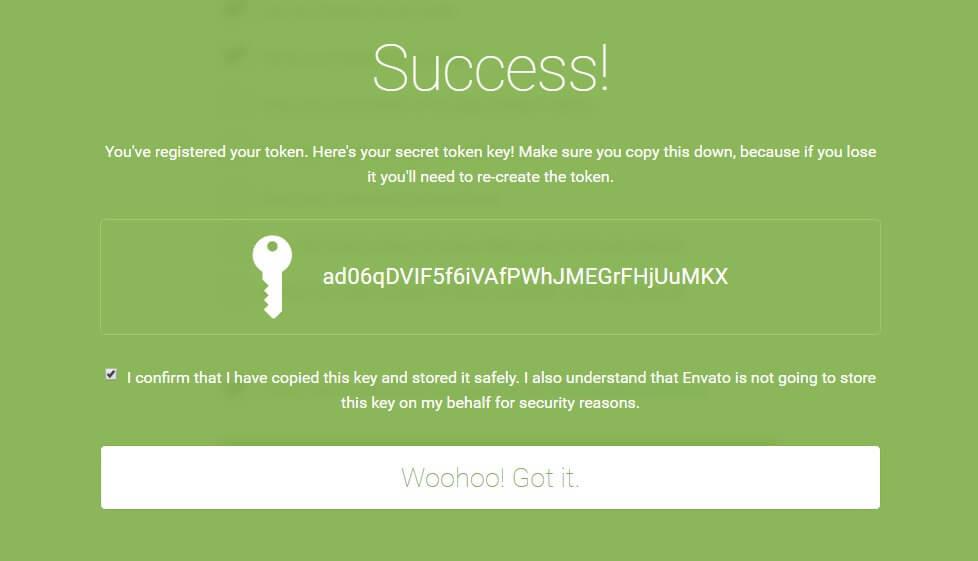 4. You will see a green checkmark for success, or a failure message if something went wrong. If it failed, please make sure you followed the steps above correctly.
If you encounter the error above after entering your Personal Token into the Product Registration field, you may have missed a step in generating your Personal Token. Please continue reading below for the likely causes of why your Personal Token may be invalid. If you've checked all the likely causes below and you're still getting the 'Invalid Token' error, please open a support ticket so our team can have a look.
The token doesn't have access to the required permissions. When generating a new token, make sure the following Permissions are checked: View Your Envato Account Username, Download Your Purchased Items, Verify Purchases You've Made and List Purchases You've Made. We require these permissions in order to verify if your purchase is valid and to be able to download automatic updates for the theme. If you're already using an existing Personal Token, you can go to your 'My Apps' page and edit the token's permissions from there. Simply click the 'Edit' button and check the required permissions.

Missing characters when copied from ThemeForest. When copying your Personal Token key, make sure you don't miss any characters. It's a simple thing to miss, but it still happen frequently. If you're copying your Personal Token from a text editor program like MS Word or Notepad, make sure you don't copy any extra characters such as spaces, as well.

The personal token in use has been deleted. Make sure the Personal Token you're using still exists in your 'My Apps' page. If it has been deleted or no longer exists, you'll need to generate a new Personal Token and use that in your Product Registration instead.

Token in use is registered under the wrong ThemeForest account. If you have access to multiple ThemeForest accounts, make sure you're logged into the correct account that you've purchased with. Generating a Personal Token using an account that doesn't have purchased will render the token invalid when used in Product Registration field.

The server is blocked for external CURL calls. This needs to be checked with your hosting service since this configuration cannot be modified without administrator access to the machine. We'd suggest you get in touch with them and ask if there any restrictions on CURL calls or even firewall rules to block and outgoing requests like that.
After this you can choose and install the demo content under Motors -> Demo Import: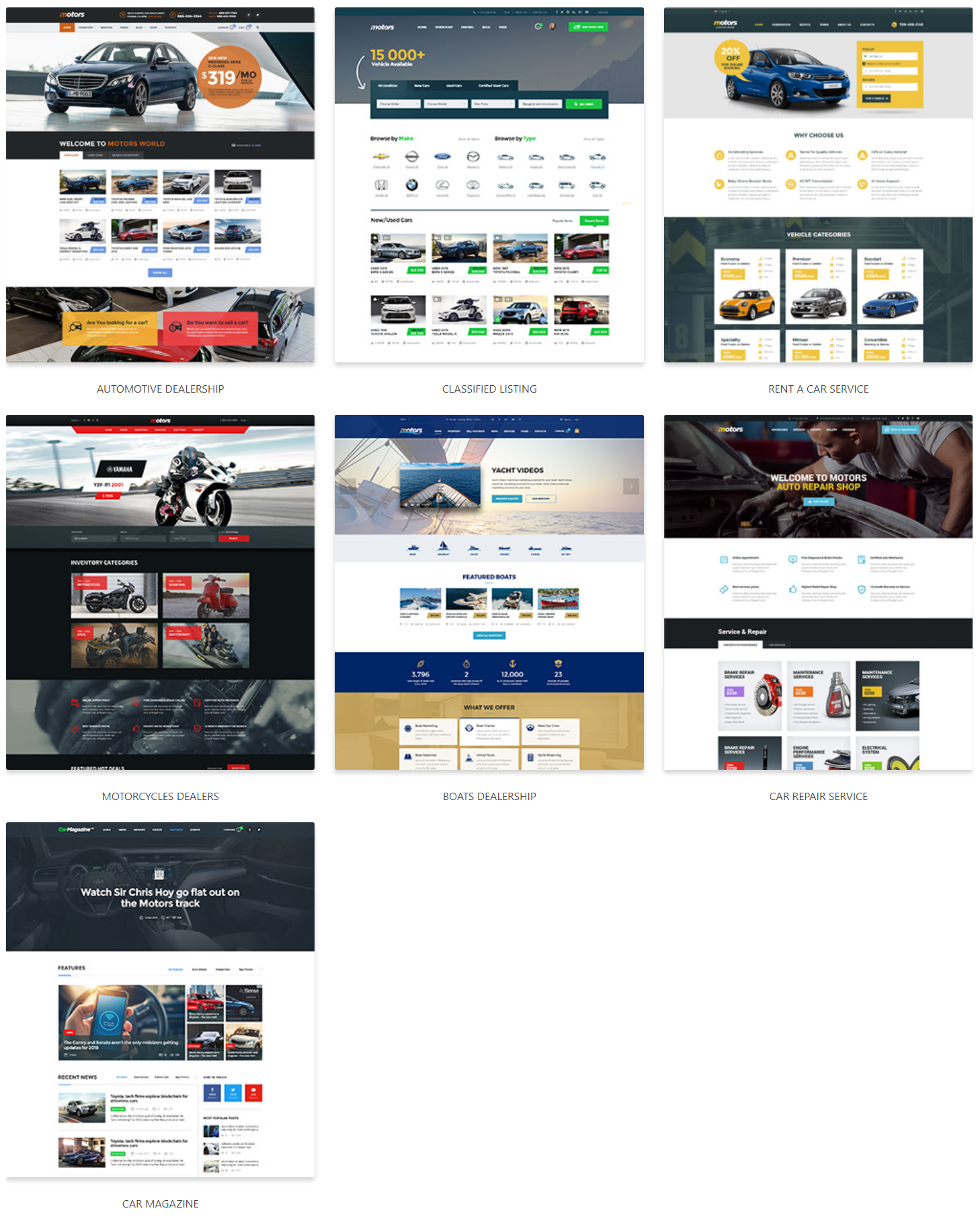 You can use the demo content as a starting point for your website and modify the content to suit your needs. In that case, select the demo layout that is most appropriate for your website.
Please note: All demo site images replaced with placeholders due to licensing policy.
Each demo layout requires a number of plugins to function properly. Fortunately, StyleMix Themes has made it easy for you to install the plugins and they will be installed automatically during demo setup proceed. In order to start the import proceed, click on the Setup layout button.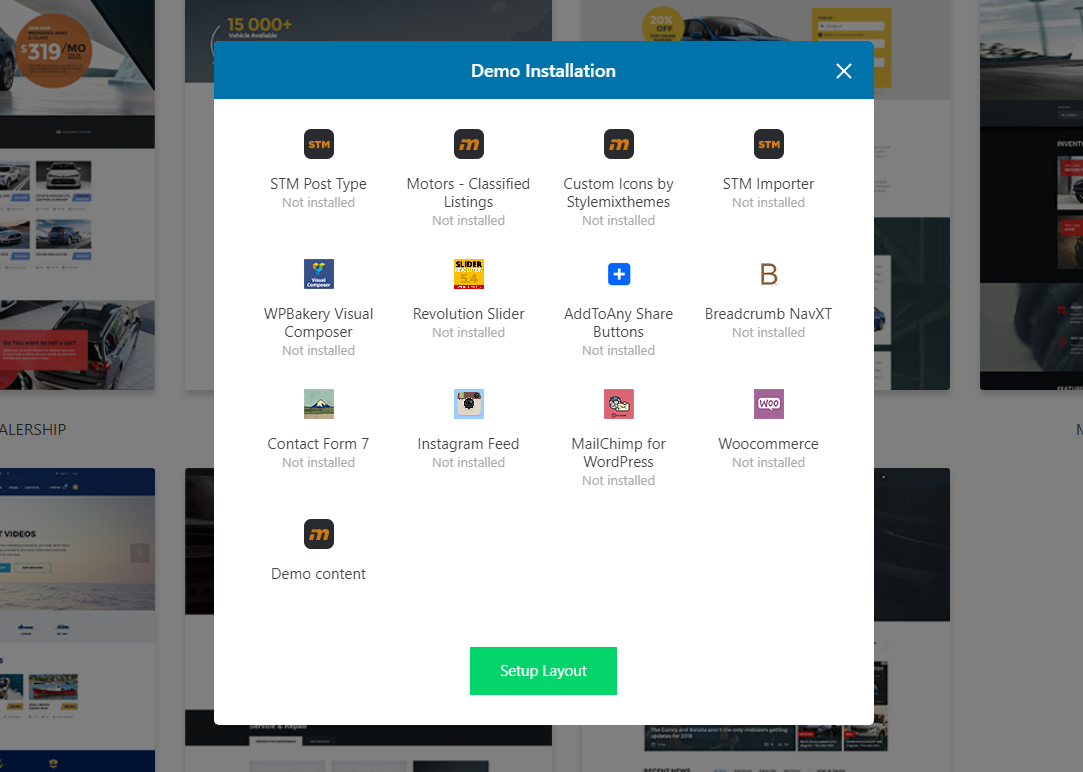 Depending on the speed of your Internet connection, it may take some time to install all the plugins and import the demo content.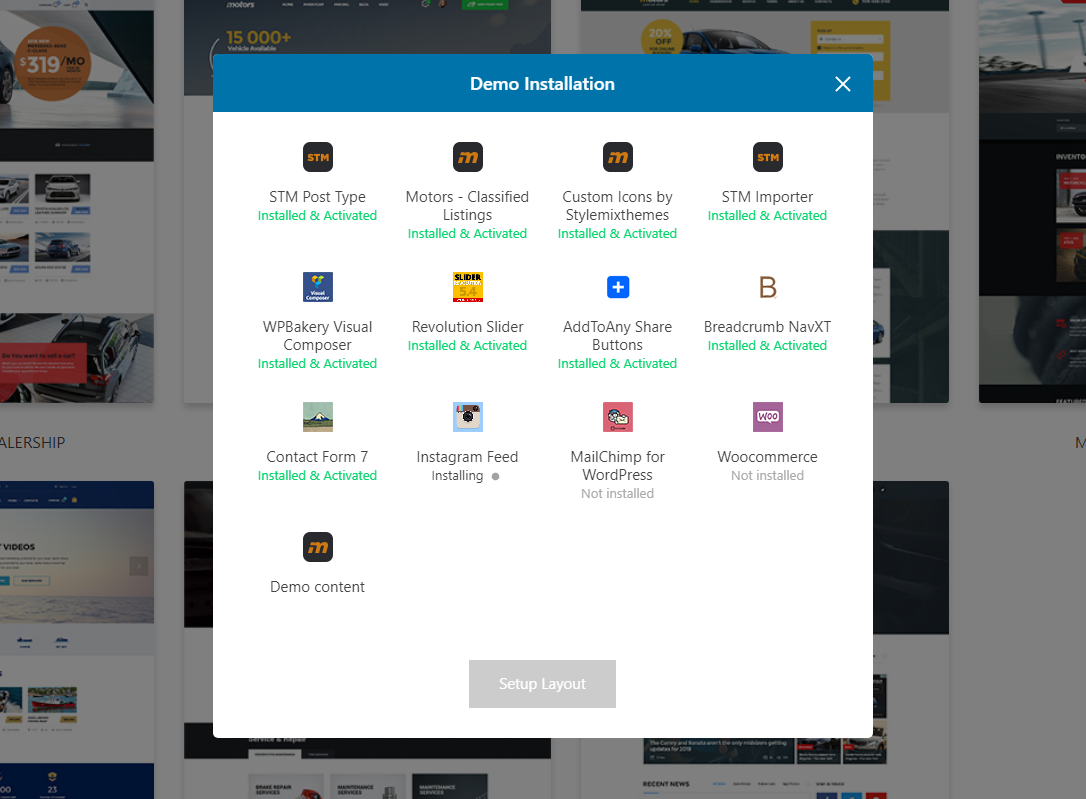 If the import fails or stalls, please try to reload the page and click on Setup layout button once again or see the previous section: What to do if the theme installation fails.
All the plugins which are not free come under our EXTENDED License, so you don't need to pay for their license to use them. Some of them might have messages requiring activation, but they are already activated on our side. No purchase code needed. When using them under our license you will need to wait for the plugin updates in our regular theme updates. If you want to be able to auto update them from wp-admin, you will need to buy your own personal license for that. However, we always include the latest versions of the plugins in every update of the theme.
Setup Layout feature installs all required plugins, imports the chosen demo layout and widgets. After finishing the proceed you can visit your site front page in order to see all ready features.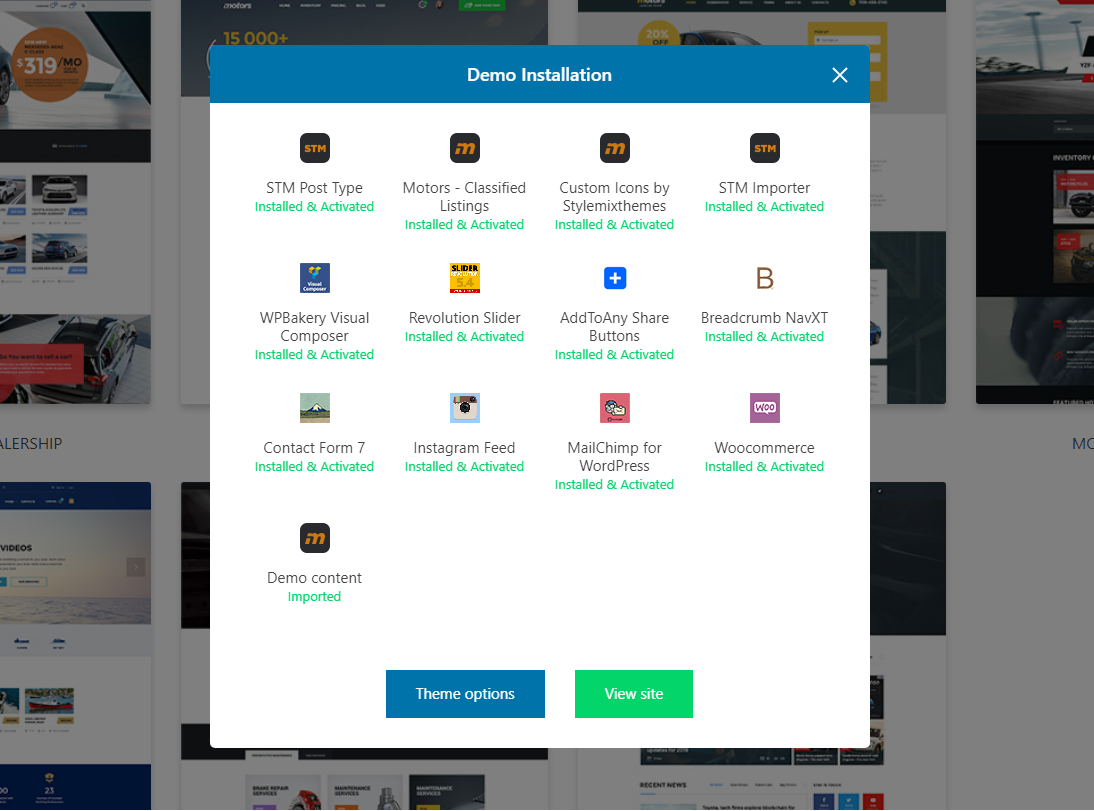 If you want to start from scratch after viewing the demo content, you can remove the demo content using the Reset WP plugin (https://wordpress.org/plugins/reset-wp/). This plugin resets the WordPress database back to its defaults. It will delete all customizations and content, but it does not modify files; it only resets the database. Please see the above link for more details.
If the import stalls and fails to respond after a few minutes You are suffering from PHP configuration limits that are set too low to complete the process. You should contact your hosting provider and ask them to increase those limits to a minimum as follows:
You can verify your PHP configuration limits by installing a simple plugin found here: http://wordpress.org/extend/plugins/wordpress-php-info. And you can also check your PHP error logs to see the exact error being returned.