uListing WordPress plugin
has two types, basic free, and pro versions with additional five addons. According to the version of it, the installation process will differ.
Installing
"uListing"
plugin is just like any other WordPress plugin and it can be installed in two easy ways.
Follow to
Plugins > Add
New
from your dashboard.
Click on the
Upload Plugin
button and select the
uListing plugin
downloaded file from your local folders.
Click
Install Now
and wait for the installation to finish.
After installing it successfully, you need to
activate
the plugin.
In the second way, navigate to your WordPress "Plugins" page, inside of your WordPress dashboard click "Add New" and follow these instructions:

In the search field enter "uListing plugin". Then hit Enter.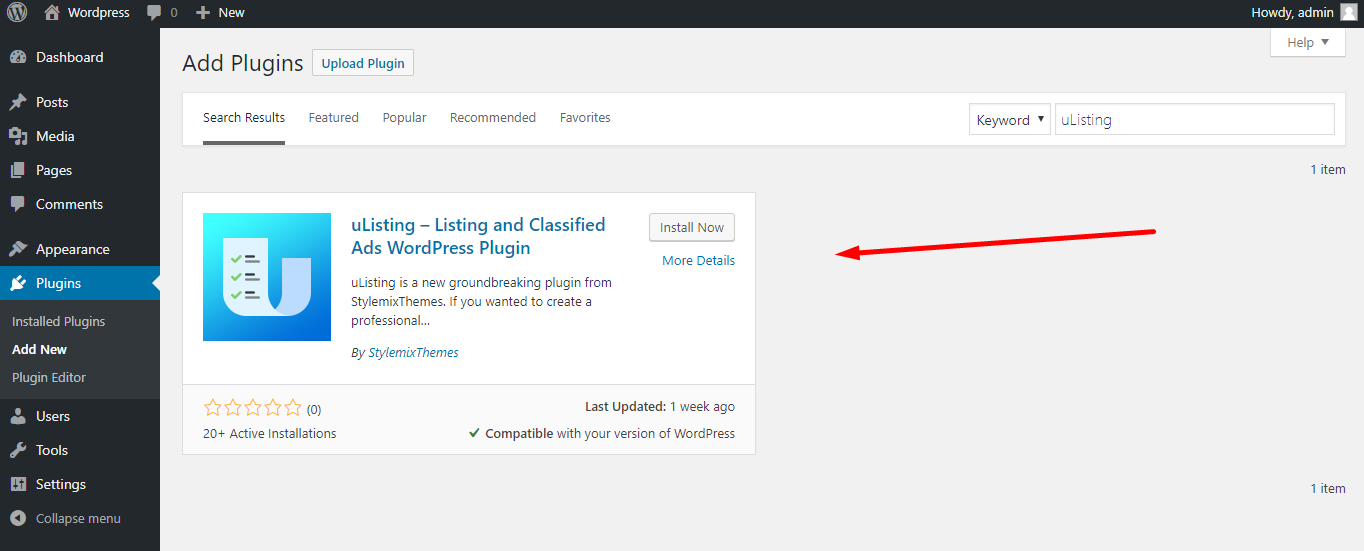 Click "Install Now". Once installed, click "Activate".
Make sure you have the
uListing
plugin basic free version is installed and activated before installing the pro addons
When all your data is found to be correct about your buying, you will get a welcome message by Freemius sent to your email. Then you can install the bundle of additional uListing addons in the following steps.
uListing
plugin pro version includes five additional addons ( uListing Subscription, User Roles, Compare, Social Login, and Wishlist) that you can buy them as a single bundle.
In that message, you will be aware of the link of the Pro Plugin's download page with the license key to activate the plugin. You will also be informed with some personal data and instructions for activation.
Go to
Plugins
sections from your dashboard, then go to
Add new
and choose
Upload plugin
function from there.
Choose the given archived file from the local system where you downloaded. Then, you have to choose any u
L
isting extra addon to install and activate.
Freemius gives you all addon in a single folder, you will install all of them or any desired ones. Below, installation is shown for all addons.
Then, click the
Install Now
button.
Click the
Activate Plugin
button. Then you will be directed to the activation board where you should paste the license key that you are given by Freemius. In the following image, you can see uListing Compare addon activation, but the same procedure happens for other addons.
Press the button
Agree & Activate License
to activate:
After activating successfully, you can see the notifications about all addons are installed:
uListing Plugin
free and pro versions
are installed and activated, good job!