Recently, our developers integrated the MasterStudy with BuddyPress plugin to expand the opportunities of the theme. BuddyPress gives an opportunity for the students and teachers to create a community. Further, BuddyPress has incredible features as
Course Groups
,
Activity Feeds
,
Course messaging
and
Advanced Profiles
.
Next, BuddyPress allows students and teachers to socialize as they can add friends, have group chats or private messages. The BuddyPress will be as Facebook, but only for the MasterStudy students. Students and teachers will have their own profiles and manage others by sending messages and chatting. Group chats will allow sharing the knowledge or experience with other students who are struggling with a specific topic or question.
The BuddyPress in integration with MasterStudy will provide tremendous opportunities, as the students will not only study but also make a network. It will engage other potential customers as well because people will share their experience through word of mouth. As a consequence, your business will have more potential to be recognized and to be expanded.
To
Install and Activate
BuddyPress, navigate to
Plugins
and select
Add New
.

On the right top, there is a search field, write there
BuddyPress
and when the search finds it enter
Install Now
.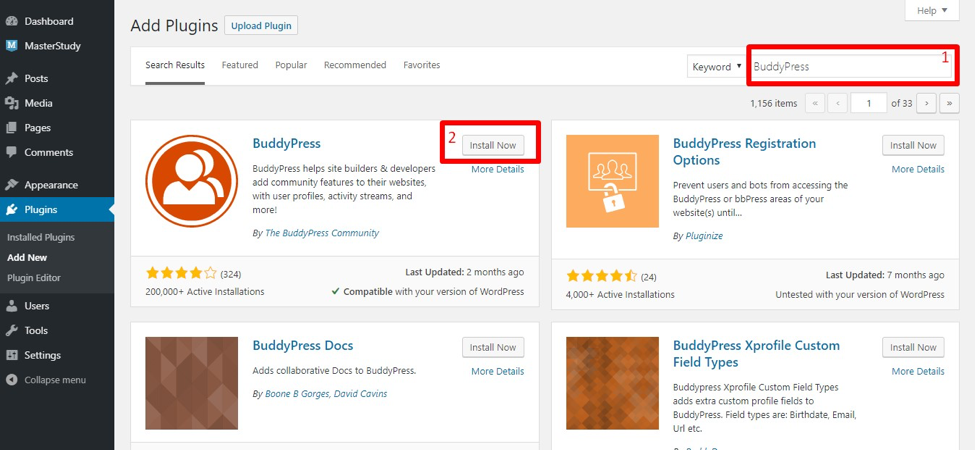 After Installation, you should
Activate
the plugin as shown on the screen below.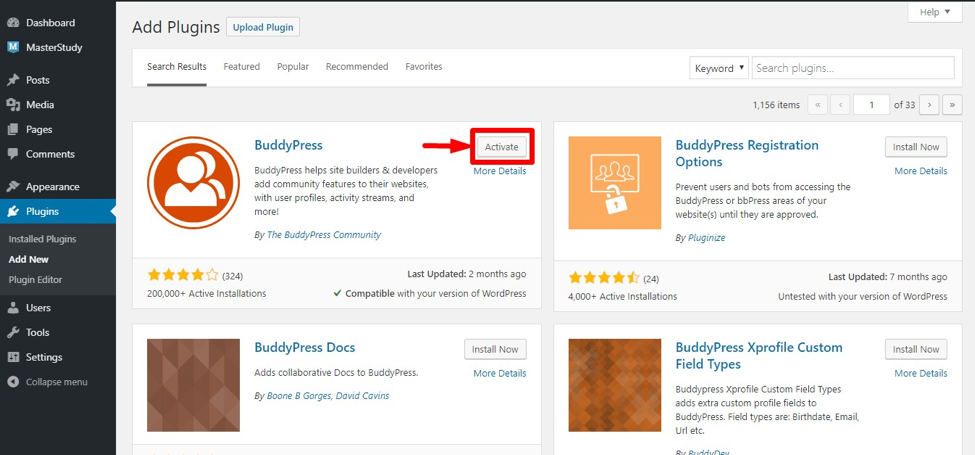 You can visit the
live demo
of MasterStudy integration with BuddyPress to view the features of integration.
In order for the plugin to work properly, you need to make several changes in customization settings. Click the
Customize
link.
On the opening off-canvas, choose
BuddyPress Nouveau
.
Afterward, go to the
Group front page.
Check the
Enable default front page for member profiles
box(1) and click
Publish
button(2).
It is required to make the same actions to the
Member front page.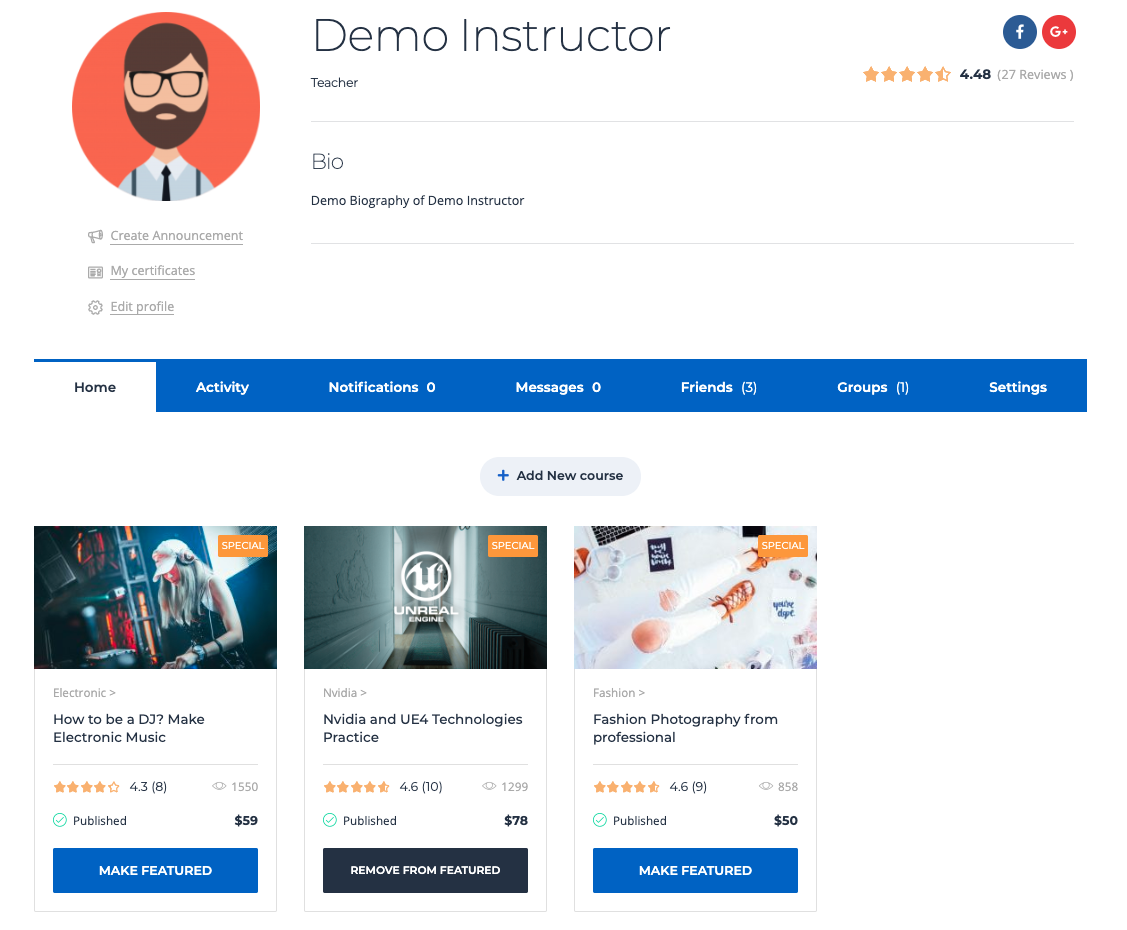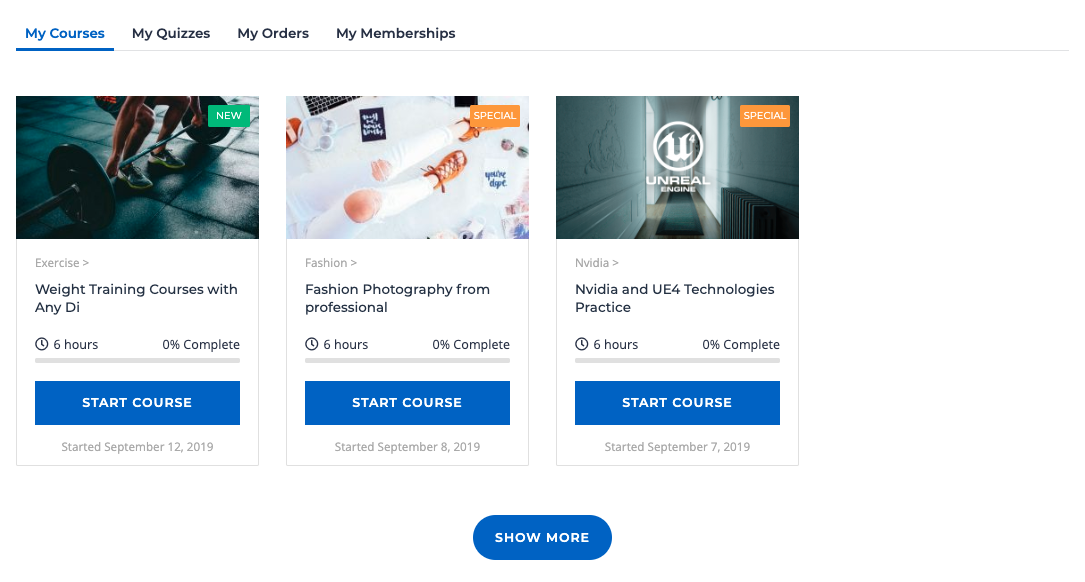 The next page is the
Activity
page where students can add their statuses, share their feelings with others on Facebook. The Activity page has subsections as
Personal
,
Mentions
,
Favorites
,
Friends
,
Groups
.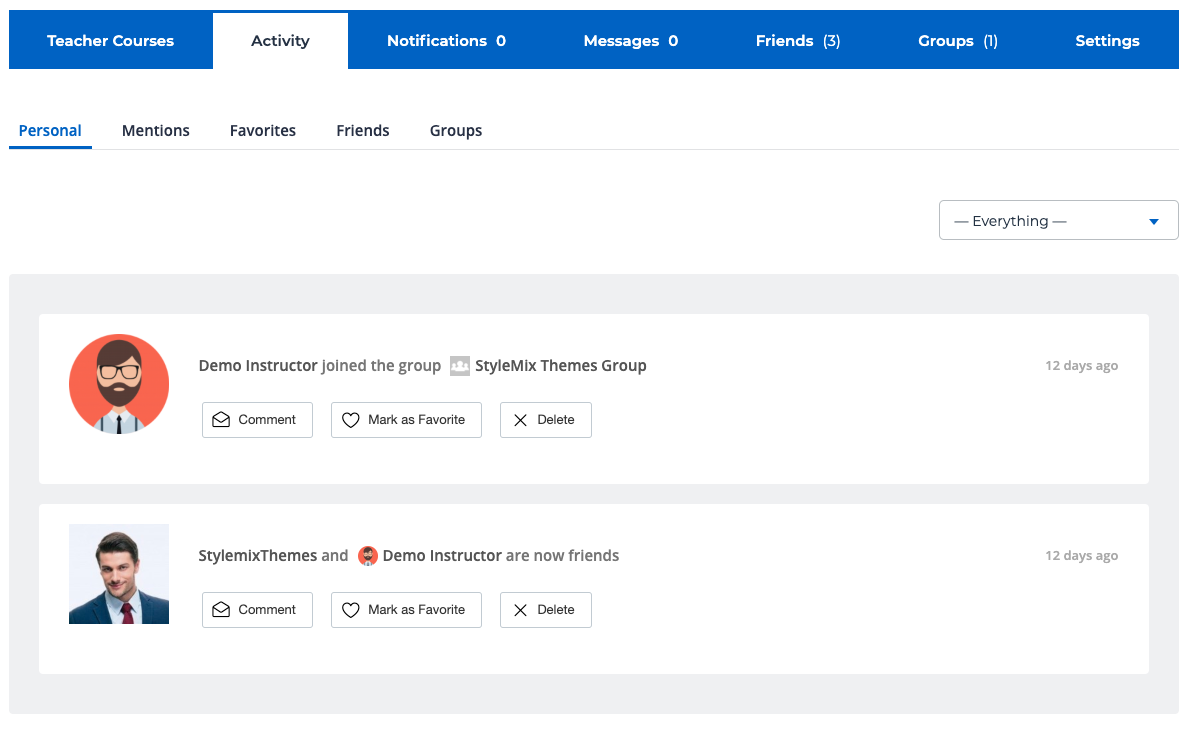 On the page
Friends
, students will have the list of friends as on other social media. Friends Page has 2 subsections, namely
Friendships
and
Requests
.
Friendships
allow people to see last active, newest friends, and all friends in alphabetical order.
Requests
show the people who send a request to become a friend on social media.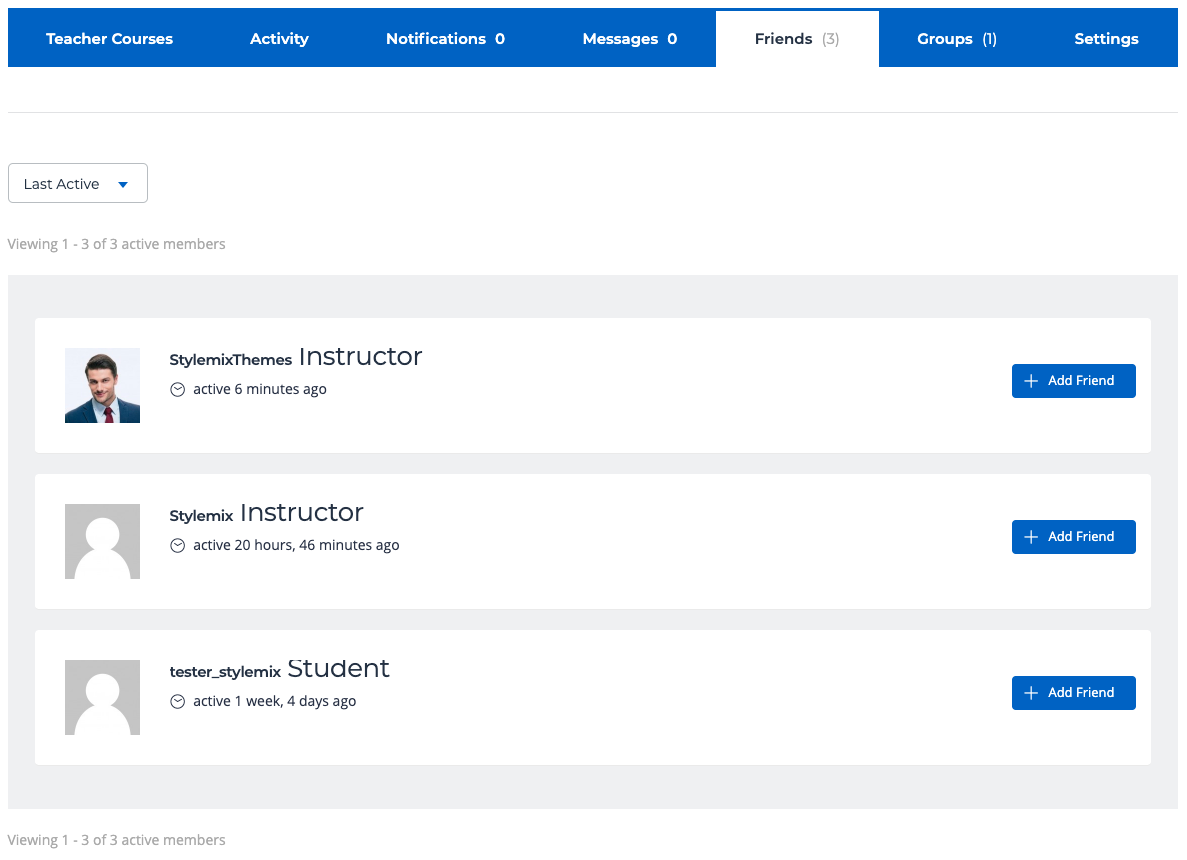 The last section is setting, where students can add their emails, change passwords, modify the profile visibility and so on. Moreover,
Setting
has several subsections as
General
,
Email
,
Profile Visibility
,
Group Invites
,
Export Data
and
Delete Account
. The first is
General
and it looks as shown below on the picture.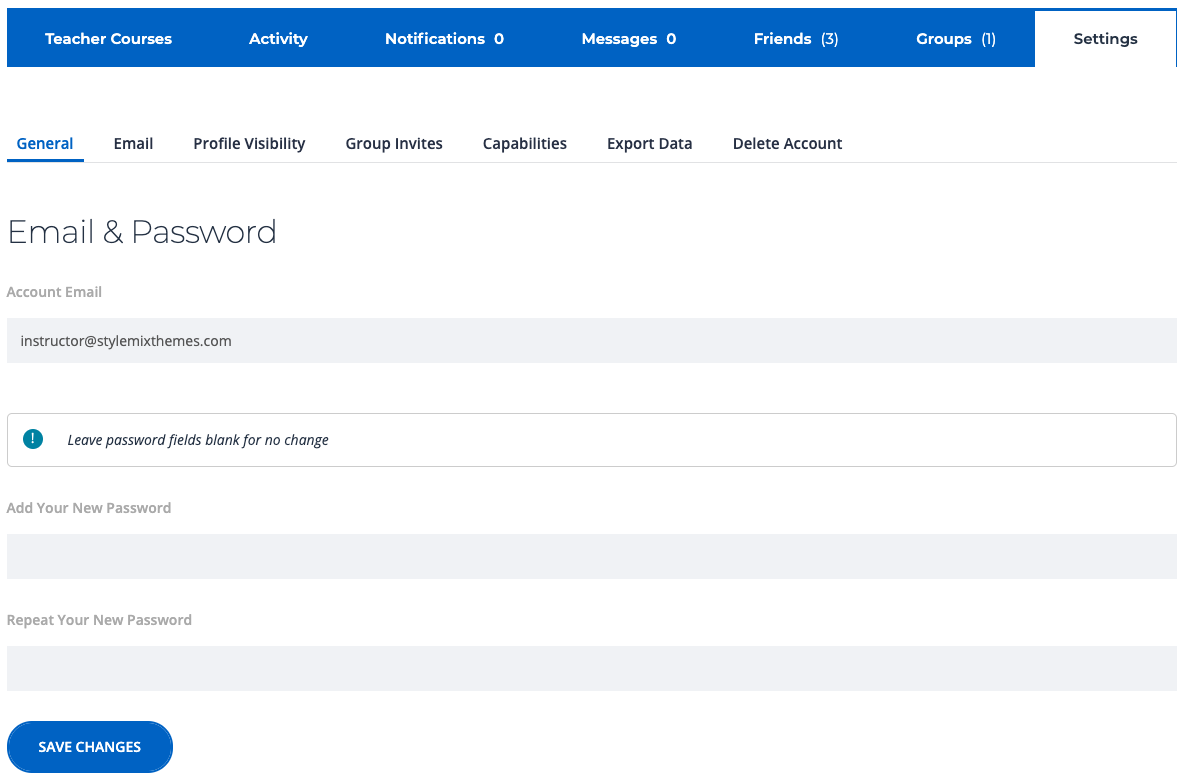 The next section in the Setting is
Email
: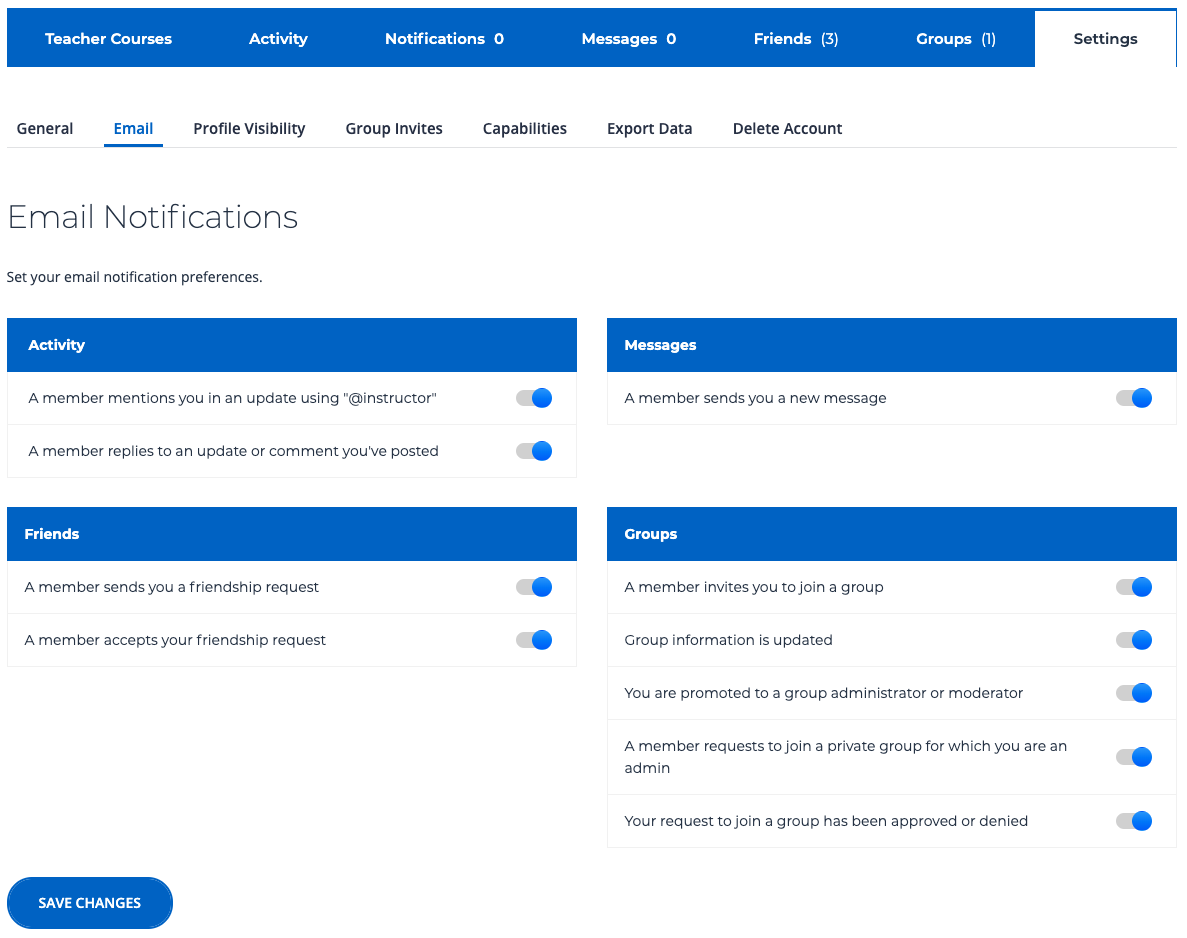 Using the
Export Data
, people can export the data about the users, comments, media, Profile data and many more.