This add-on allows you to manage all payments and track affiliated statistics for the sold courses, such as Total Profit, Total Payments, get statistics for a specific period, and etc. Also, you can proceed with payments for course authors manually or automatically.
You can enable the Statistics & Payouts addon in the
STM LMS > LMS Settings > Addons
section of the WordPress dashboard menu.
Take control of sales by viewing the statistics. Analyze what courses are selling the least and improve overall income.
Instructors can track sales and earning statistics from the profile menu - Payout section.
The Statistics page consists of Earnings graph and Sales pie chart.
Also, instructors can review total earnings and individual sales for each course.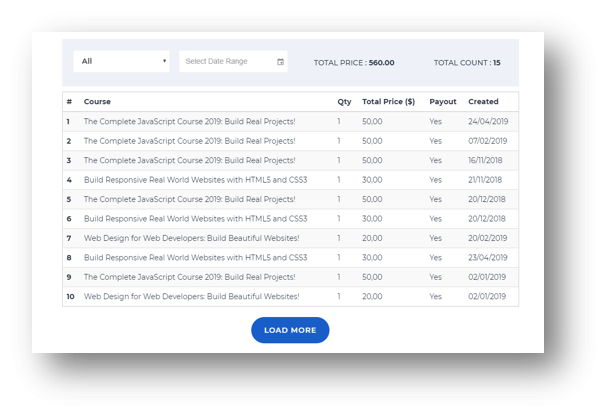 Website administrators can see statistics of user's purchase histories, course authors' earnings, and proceed payments for course authors.
Navigate to
MS LMS > Statistics
to load a sales history. On this page, administrators can see order statistics and sort data with a different option.
NOTE:
Statistics dashboard loads history of all orders made on the website including WooCommerce orders. However, the Total Earnings are calculated without WooCommerce orders.